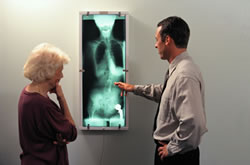 If you're new to the world of chiropractic care, it is understandable that you would have a few questions in regard to what to expect when visiting with Dr. Ernst, your Arlington chiropractor, for the first time. So, in an effort to make your appointment as stress-free as it can be, here is a list of some of the things you can look forward to when you walk in the door of our office:
Personalized Service
Not all people have the same spinal issues or concerns, which means that each person requires an individual approach. As your Arlington chiropractor, Dr. Ernst prides himself on the personalized service he offers to ensure that every one of his patients gets the care that is right for them.
A Whole Body Approach to Health and Wellness
Being a chiropractor means that Dr. Ernst focuses primarily on spinal health, but he also recognizes that it takes much more than having a spinal column in place to feel as good as you can. That's why he considers himself a mentor of sorts, as he is more than willing to also share what he knows about nutrition and exercise and how to make both of these a regular part of your health and wellness plan.
Pain Relief
Perhaps the most notable reason for making an appointment with Ernst Chiropractic Clinic is the desire to become pain-free. Of course, that is my ultimate goal and one that most of the time can be realistically met with the use of spinal manipulation and other healing techniques.
Prevention of Spinal Issues
Finally, although a large number of the patients Dr. Ernst sees are experiencing some sort of pain in their back, neck, legs, or hips, he also takes a preventive approach at his Arlington chiropractic office. His goal is to stop pain before it even starts so that you never have to know how it feels to suffer with a painful condition day in and day out.
These are just a few of the things you can expect when you come into Ernst Chiropractic Clinic in Arlington, WA, so call and schedule your appointment today!