If you spend your days trying to find some kind of back pain relief, unfortunately, you are not alone. In fact, here are some rather unnerving statistics about back pain that are provided by the American Chiropractic Association:
Approximately 31 million Americans are experiencing back pain right this moment.
Up to 80% of the population will contend with back pain sometime between birth and death.
Low back pain is the number one cause of disability – everywhere across the world.
Back pain is beat out only by upper-respiratory infections as the top reason for a doctor's visit.
There's Good News!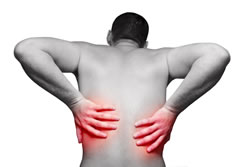 These numbers can be staggering to try to digest, but the good news is that back pain doesn't have to be a permanent part of your life. There are many different treatment options available to you right in our Arlington chiropractic office that can offer you almost immediate relief.
When you come in for your appointment, our first step is to figure out what is causing your back to hurt so that we can attack it at the source. We do this via talking with you regarding the activity, onset, intensity, and duration of your pain, as well as through a thorough and complete physical examination.
Once we've isolated the cause of your back pain, we will work together to come up with a treatment plan that suits both your condition and your lifestyle. As your Arlington chiropractor who cares, we want to make sure you're comfortable with your own personalized treatment solution.
Chiropractic Options for Back Pain
Back pain treatment may include spinal manipulation therapy, massage therapy, or any other treatment-based action that Dr. Ernst recommends for your particular situation. His goal is to provide you an individualized back pain relief program that gets you on the road to recovery as soon as possible.
Whether your back pain is caused by a personal injury accident, auto injury accident, an on-the-job injury, or any other incident, come to Ernst Chiropractic in Arlington, WA and see us. It's time to get rid of your back pain and start to live life!

Reference
Back Pain Facts & Statistics. American Chiropractic Association. http://www.acatoday.org/level2_css.cfm?T1ID=13&T2ID=68.