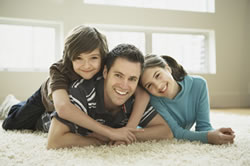 More and more parents are seeking chiropractic care as a natural option for managing their children's health. Chiropractic care is a safe, non-invasive way to alleviate a number of conditions commonly experienced in kids including back pain, neck pain, sports injury, headache, and more.
Chiropractic for Kids with Back Pain
Studies show that kids with back pain tend to develop chronic back problems as an adult, making it all the more important to address musculoskeletal issues at an early age. Fortunately, chiropractic adjustments have been found to successfully ease back pain for the majority of pediatric patients. A literature review showed that manual therapies, such as what we offer in our Arlington clinic, are an effective option for adolescents with back pain.
Parents searching for drug-free methods of easing neck and back pain in kids can take heart. A study from the Annals of Internal Medicine showed that spinal adjustments and exercise therapies were more effective than pain medications for relieving neck pain. Other research has shown that spinal adjustments ease back pain better than an anti-inflammatory drug called diclofenac.
Chiropractic for Children with Headache
Headaches often originate with a disorder in the cervical spine, or neck. As specialists in the spine, chiropractors can significantly reduce cervicogenic headache and migraine in many patients. Spinal adjustments reduced the frequency of migraines by up to 90% for patients in one study. A combination of chiropractic adjustments and exercise rehabilitation resulted in a 50% reduction in headache symptoms for patients with cervicogenic headache in another study. Dr. Ernst will use gentle manual therapies to correct dysfunctions in the cervical spine and ease headache in children.
Safety of Chiropractic for Kids
Research also shows chiropractic is safe for children. A 2012 study evaluated the safety of chiropractic treatments for kids. It included 956 chiropractic clinics averaging 20,000 pediatric visits per month. Fewer than 1% of children reported side effects from chiropractic treatments, and those who did had only mild side effects. No serious side effects were reported.
When working with children, Dr. Ernst will use low-force spinal adjustments and soft tissue therapies. This allows us to achieve the benefits of chiropractic treatments for alleviating pain in the most gentle way possible.
How Can Clackamas Chiropractic Help
At Ernst Chiropractic, we use non-invasive, drug-free methods of relieving pain in children. Based on your child's specific needs, we may use massage, trigger point therapy, low-force spinal adjustments, mobilization, and exercise rehabilitation. We also may coach your child on posture correction and other healthy habits to minimize musculoskeletal pain. Our chiropractor Dr. Ernst also works with pediatric and adolescent athletes to relieve and prevent sports injury.
Time and time again, we've seen how chiropractic care can ease pain and improve the quality of life of our pediatric patients in Arlington, WA. Call Ernst Chiropractic for an appointment today.
References
Alcantara J, Ohm J, Kunz D. The safety and effectiveness of pediatric chiropractic: a survey of chiropractors and parents in a practice-based research network. Explore NY 2009; 5(5): 290-5.
Alacantara J and Pankonin K. Chiropractic care of a pediatric patient with migraine-type headaches: a case report and selective review of the literature. Explore 2010; 6(1): doi:10.1016/j.explore.2009.10.005.
Bronfort G, et al. Spinal Manipulation, medication, or home exercise with advice for acute and subacute neck pain: a randomized trial. Annals of Internal Medicine 2012; 156 (1): 1-10.
Calvo-Muñoz et al. Physical therapy treatments for low back pain in children and adolescents: a meta-analysis. BMC Musculoskeletal Disorders 2013; 14 (55):1-11.
Marchland A. Chiropractic care of children from birth to adolescence and classification of reported conditions: an Internet cross-sectional survey of 956 European chiropractors. Journal of Manipulative and Physiological Therapeutics 2012; 35 (5):372-380.
Haas M, Spegman A, Peterson D, Aickin M, Vavrek D. Dose response and efficacy of spinal manipulation for chronic cervicogenic headache: a pilot randomized controlled trial. The Spine Journal 2010; 10: 117-128.
Humpheys BK. Possible adverse events in children treated by manual therapy: a review. Chiropractic & Osteopathy 2010;18: doi: 10.1186/1746-1340-18-12.
Hayden Ja, Mior SA, Verhoef MJ. Evaluation of chiropractic management of pediatric patients with low back pain: a prospective cohort study. J Manipulative Physiological Therapeutics 2003 ;26(1):1-8.
von Heymann, et al. Spinal high-velocity low amplitude manipulation in acute nonspecific low back pain: a double-blinded randomized controlled trial in comparison with diclofenac and placebo. Spine 2013; 38 (7): 540-48. doi: 10.1097/BRS.0b013e318275d09c.
Tuchin P, Pollard H, Bonello R. A randomized controlled trial of chiropractic spinal manipulative therapy for migraine. Journal of Manipulative and Physiological Therapeutics 2000; 23 (2) 91-95.