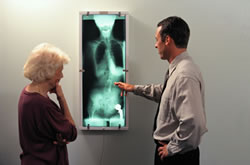 Naturally, chiropractic helps traditional neck and back problems, but chiropractic has also produced wonderful results with a variety of other health problems, such as headaches, migraines, and shoulder pain.
Our Arlington chiropractic office uses techniques that help our patients enjoy the fastest results in the shortest amount of time. As Arlington chiropractorsthere are certain health conditions we especially enjoy helping. For us, our most rewarding cases involve the following.
Low Back Pain
I enjoy helping patients with low back pain in our Arlington chiropractic office. Low back pain is so disabling and crippling, it is very gratifying seeing these people regain their ability to move and function normally. We can help you regain this with our chiropractic care.
Headaches
I love seeing patients at our Arlington chiropractic office with headaches, our success rate with headache patients is over 90%. Very few patients with headaches don't respond to chiropractic care.
Neck Pain
Neck pain is another condition that responds tremendously to chiropractic care. It is very gratifying to adjust a patient and then have them immediately notice less pain and greater mobility.
General Health
General health is not a specific condition, but over all the most important focus one should have. It is amazing to hear our patients after they have been under care seeing changes in their overall health. Many patients comment on how they are sleeping better, have more energy and are doing activities that they haven't done for a long time.
Call our Arlington chiropractic office to make an appointment, so we can help you and your family!