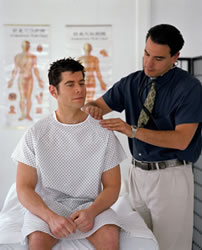 If you live in Arlington and you're looking for a chiropractor, it can be tough to make a decision of who to trust with your health. With so many options available to you, how can you be sure that you pick one that fits you and your family best? Simple. Do these three things:
Choose an Arlington, WA Chiropractor Who Puts You First
At the very minimum, you want to choose a chiropractor in Arlington who makes your health a priority by putting you first. At Ernst Chiropractic Clinic, we work one-on-one with you to create the most favorable healthcare plan possible.
Together, we will discuss your specific situation as well as all of your spine-related injury prevention and treatment options, helping you make an informed decision about what route of care will work best for you. With us, you are always in control of your treatment plan, putting you in charge of your own health every step of the way.
Find an Arlington, WA Chiropractor Who Teaches You How to Be Healthy On Your Own
While Dr. Ernst can certainly help you achieve spinal health while in his office by utilizing top-of-the-line chiropractic techniques, he also wants to arm you with the tools you need to enjoy maximum health in between visits. That is why he takes the time to educate you about things you can do on your own to help you live a better life.
Dr. Ernst is educated in both nutrition and exercise, as well as other health topics, which helps him provide you the best advice for your lifestyle and desired outcome. He is a coach and mentor, leading and encouraging you every step of the way.
Select an Arlington, WA Chiropractor Who Makes You Feel Like Family
There is nothing better than walking into a chiropractic office and feeling as if you've come "home," which is exactly what you will experience with us. Our staff treats you the way they treat their own family, providing you with personal treatment that makes you feel special and completely at ease.
Contact Ernst Chiropractic Clinic today and make us your chiropractor. Your search is over.